Looking for a way to show off your personality and style? Why not try male nail art? There are endless possibilities for creative designs, so you can let your imagination run wild. Whether you're looking for something simple or more daring, these designs are perfect for the bold and brave. So get ready to take your nails to the next level!
Male nail art designs: the hottest trends in manicures
When it comes to nail art, men are often left out of the conversation. But that doesn't mean they can't get in on the fun! With a little creativity and some simple design elements, even the most masculine of men can rock some amazing nail art.
One of the best things about male nail art is that it can be as simple or as complex as you want it to be. So if you're not feeling particularly creative, there are plenty of simple designs that you can easily recreate at home. But if you're looking for something a little more intricate, there are plenty of options out there for you too.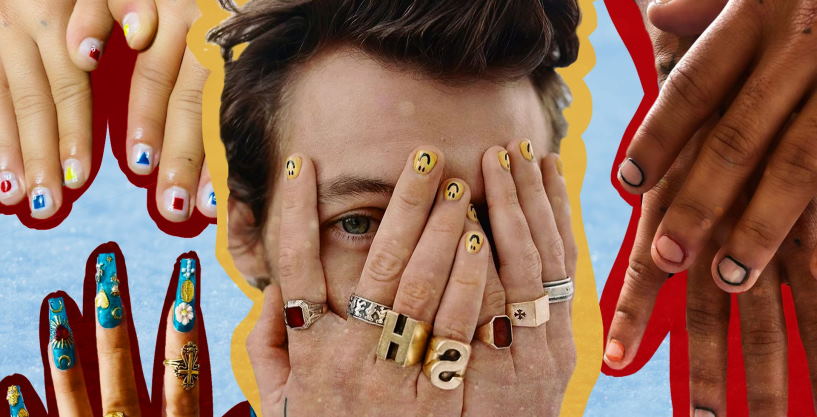 When it comes to choosing colors, don't be afraid to experiment! There are no rules when it comes to what colors look good on men's nails. So feel free to experiment until you find the perfect shade or combination for your nails.
Don't forget about accessories! Just because you're not a woman doesn't mean you can't accessorize your nails. There are plenty of great options for men, from simple studs to more complex designs.
And finally, have fun with it! Male nail art should be about expressing yourself and having fun with it. So don't be afraid to get creative and try out new things. You might be surprised at how much you enjoy it!
Nail art designs for men: cool and unique ideas to show off your nails
Though not as popular as females getting their nails done, men are increasingly starting to appreciate the art of nail care. While most people might think of flowers or other feminine designs when they think of nail art, there are plenty of masculine designs that any guy would love. Check out these male nail art designs for some inspiration!
For the minimalist, a simple black and white design is always in style. This look is achieved by painting the entire nail white and then using a thin brush to create black lines or dots.
Another popular design among men is the use of camo print. This can be done with any color scheme but looks especially cool with green and brown tones.
Geometric shapes are also a great choice for masculine nail art. Create triangles, squares, or any other shape you like for a modern look.
Firefighter themes are another popular design for men. Paint your nails red and white, and then use a black sharpie to draw flames on top.
For car lovers, consider a design that incorporates your favorite brand or model. This could be done by painting the entire nail one color and then using a second color to create stripes or other designs that resemble a car logo.
Skulls are always a popular choice among guys and can be incorporated into many different designs. One option is to paint the entire nail white and then use black paint or a Sharpie to draw a skull on top.
Another option is to paint the entire nail black and then use white paint or a Sharpie to draw a skull on top.
If you want something a little more subtle, consider using negative space to create a skull design. For example, paint your nails black and then use a toothpick or other sharp object to carve out a skull shape in the center of each nail.
For something truly unique, try using glow-in-the-dark paint to create your design. This is especially cool for Halloween-themed designs.
And last but not least, one of the most popular choices among men is simply painting their nails with a solid color. While this might seem boring, it can look quite stylish when done right. Opt for a dark color like black, navy, or grey for a classic look.
Whether you're looking for something simple or something more complex, these male nail art designs are sure to inspire you. So give one of these looks a try the next time you head to the salon!