Are you camera-shy? Do you avoid being in photos because you're unhappy with your appearance? If so, don't worry – you're not alone. Many people feel this way, but that doesn't mean you have to avoid photos altogether. Instead, you can do a few simple things to help improve your appearance in photos and make yourself look your best. Keep reading for some tips on camera-friendly makeup!
How to do camera-ready makeup
When it comes to taking photos, you want to look your best. This means having the right makeup that will look good in person and in photographs. Here are some camera-friendly makeup tips to help you achieve the perfect look for your next photo session:
Use a foundation with a matte finish.
A foundation with a matte finish will help create an even base for your makeup and prevent your face from looking too shiny in photos. Opt for an oil-free or mattifying foundation formula if you have oily skin.
Go easy on the bronzer.
Bronzer is great for adding a bit of color and definition to your face, but you don't want to go overboard. Too much bronzer can make you look orange or muddy in photos. Instead, use a bronzing powder that is one or two shades darker than your natural skin tone and apply it lightly to your face.
Use long-wearing lipstick.
When it comes to lipstick, you want to choose a formula that lasts throughout the day (or night). A long-wearing lipstick will ensure that your lips look their best in photos, even if you're smiling or eating.
Set your makeup with powder.
Set your foundation and concealer with a translucent setting powder to help your makeup last longer and prevent it from creasing or smudging. Then, use a pressed powder or loose powder to set the rest of your makeup.
Avoid glittery eyeshadows.
Glittery eyeshadows may look pretty in person, but they can often appear over-the-top in photos. If you want to add a bit of shimmer to your eyes, opt for a champagne or ivory colored eyeshadow instead.
Use waterproof mascara.
No one wants raccoon eyes in their photos! To avoid this, use a waterproof mascara that will help keep your lashes looking long and full.
Fill in your brows.
Full, well-groomed eyebrows can help to frame your face and make you look more polished in photos. Use a brow pencil or powder to fill them in if you have sparse brows. For extra staying power, set your brows with a clear gel.
Highlight your cheekbones.
Adding a highlighter to your cheekbones can give you a natural-looking glow in photos. Choose a champagne or pearl colored highlighter and apply it lightly to the tops of your cheekbones.
Add a pop of color to your lips.
If you want your lips to stand out in photos, add a pop of color with brightly colored lipstick or lip gloss. A bold red lip is always classic and chic, but feel free to experiment with other shades.
Set your makeup with a spray.
Finish your look with a setting spray to help your makeup last all day (or night). This will help to keep your makeup in place and prevent it from melting or smudging in the heat or humidity.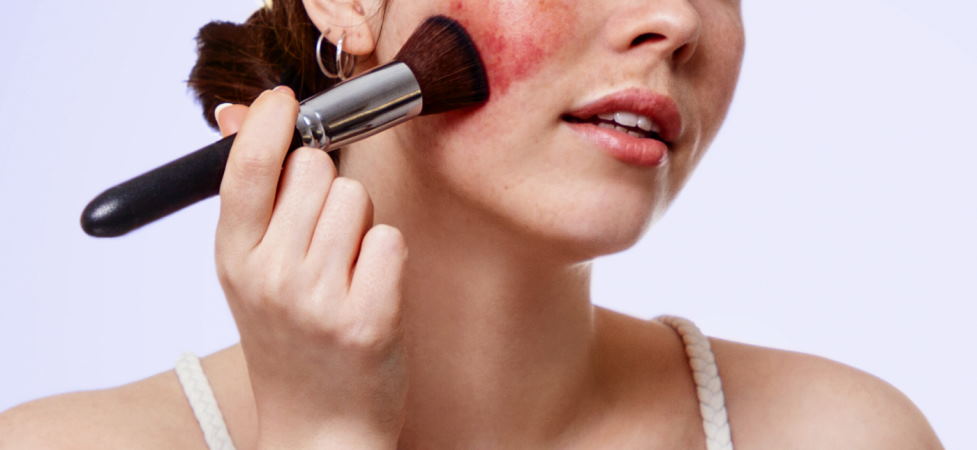 How to fix greasy skin and say goodbye to shine in photos
Are you tired of your greasy skin ruining your photos? If so, don't worry – you're not alone. Many people struggle with keeping their skin matte and shine-free, especially in photos.
Fortunately, you can use a few simple tips and tricks to get rid of shine in photos. Here are four of the most effective:
Use a mattifying primer
Using a mattifying primer before applying your foundation is a must if you have oily or combination skin. This primer will help control excess oil and keep your makeup looking fresh for longer.
Use blotting papers throughout the day
If your skin is starting to look a bit shiny during the day, then reach for some blotting papers. These will help to absorb any excess oil and leave your skin looking shine-free.
Touch up your makeup as needed
If you're going to be in front of the camera for an extended period, then make sure to touch up your makeup as needed. This will help to keep your skin looking fresh and matte.
Following these four simple tips, you can say goodbye to shine in photos once and for all!